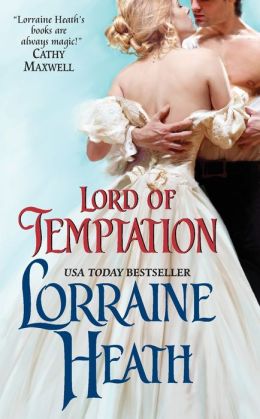 Lorraine Heath is one of my very very favorite authors -- Her Waking Up With A Duke is the romance I give to people who ask for a book to start them on the road to romance. I love her lyric, lovely style, and her gorgeous, unbelievably strong heroes and her heroines who deserve love more than most people.  I'm currently rereading her Lord of Temptation, about a pirate and a quiet Victorian miss, and I love it even more the second time!  
I'm so thrilled that she has joined us today for Girls Who Wear Glasses to talk about her favorite bespectacled beauty -- Miss Edwin Henrietta Bollash from Judith Ivory's The Proposition.  
**
Thanks for inviting me to join you today, Sarah. I'm a huge, huge fan and One Good Earl Deserves a Lover is on the top of my Reward pile as soon as I finish reading the books that I'm judging for a contest. Although I do keep sneaking in moments to read a little of OGEDAL, and I'm loving it.
One of my all-time favorite heroines is Miss Edwina Henrietta Bollash from The Proposition by Judith Ivory. She's perfect for this post, because she does indeed wear spectacles. She's a spinster who has spent much of her life studying linguists and teaching people to speak with the proper diction. She has accepted the challenge of turning rat-catcher Mick Tremore into a gentleman. He's flirtatious and fun, while she has developed a hard shell around herself to protect her heart. In one of their encounters, he says, "'Cause you be a beaut, if ever I seen one."
In her response, she reveals a good deal about how she views herself. "Mr. Tremore, I am a gangly, plain woman with speckled skin, who wears glasses on a nose that looks like an eagle's. I am taller than any man I know." In a moment of confusion, she had to rethink that statement. "Except you." She went on with forced patience, "But I'm an honest woman, a smart woman. And I don't hold truck with a lot of lying falderal from some Cockney-Cornish womanizer who thinks he can talk his way out of being caught red-handed in the liquor shelf."
Of course, later in the story, Mick will remove her spectacles. I'm not sure why, but I always find it sexy when the hero removes his lady's glasses. When he's caught in the beauty of her eyes. Eyes are my favorite part about a person. They reveal so much. I think it's rather nice when glasses serve as a frame for the eyes, drawing our attention into the windows of the soul.
Miss Bollash is such a strong character. I can't really imagine her without spectacles. They are such a part of who she is. For those of us who wear glasses, I think over time that they don't necessarily define us, but they do say something about us. They aren't a symbol of weakness, weakening eyesight, but rather a testament to our refusal not to live in a blurred world. They don't make us plain. They give us character.
So three cheers to the glasses-wearing readers!
**
Hear hear!  I admit to never having read The Proposition--but I love love love a Pygmalion story--so I have just downloaded it to my eReader and am going to start...just as soon as I finish Lord of Temptation (read #2)! 
Mick is a ratcatcher! What a fascinating, not at all sexy on the surface job. But it makes me think of Mike Rowe and Dirty Jobs--Mike Rowe, whom my mom adores, in part because he's not afraid of a dirty job. So! What's the sexiest dirty job in your mind? Tell us in comments, and we'll select one winner (US Only), to receive signed copies of the first two books in the Lost Lords of Pembrook series, She Tempts the Duke and Lord of Temptation.