I'm so happy to host the wonderful Debra Mullins today on the blog as part of the celebration of Ten Ways to Be Adored When Landing a Lord! The first book in Debra's Brides of Nevarton Chase series, Tempting a Proper Lady, is out now, and the next, Too Wicked to Love, is out in June!
I'm particularly excited because she is going to talk about one of my favorite topics--Hollywood Hotties...and because obviously Debra and I are kindred spirits...as her list includes several of my go-to dreamboats!
This is such a fun post...I'm so happy to share it with you!
Ten Decades of Hollywood Heroes
By Debra Mullins
I was always compelled to write, but what I chose to write—romance novels—was directly influenced by the movies I watched growing up. The hero always got to me, how he managed to do his duty while still falling head over heels for the heroine. So here is my list of Hollywood heroes over the past ten decades. Now, this isn't the list, just my list, so feel free to add your own suggestions as we go!


Since we're starting off in the twenties, I think this quote from Rudolph Valentino sums up how women feel not only about romantic leads on the silver screen, but also about heroes in romance novels:


"Women are not in love with me but with the picture of me on the screen. I am merely the canvas on which women paint their dreams." --Rudolph Valentino
1920-1930 – Douglas Fairbanks and Rudolph Valentino. Dashing Douglas Fairbanks did all my favorite films: Robin Hood, The Thief of Baghdad and The Mark of Zorro. To this day I love heroes with secret identities. Rudolph Valentino, dubbed the original Latin Lover, made a splash in movies like The Sheik and Son of the Sheik. His death at age 31 spurred one of the first female mass hysterias for a pop icon.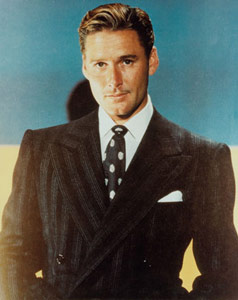 1930-1940 –Errol Flynn. Errol Flynn stole my heart with swashbuckling romance in movies like The Adventures of Robin Hood, The Adventures of Don Juan and Captain Blood.
1940-1950 – Tyrone Power. Tyrone Power continued the swashbuckling tradition in movies like The Mark of Zorro and The Black Swan. (You can blame him and Errol Flynn for my first book, Once A Mistress.)
1950-1960 – John Wayne. My favorite movie of all time is The Quiet Man with John Wayne and Maureen O'Hara, filmed in Ireland. What a wonderful romance against a stunning backdrop!
1960-1970 – Sir Sean Connery. From 007 to Highlander to The Rock to Entrapment, Sean has got "it"—that elusive charisma that keeps women coming back for more. He could film a denture commercial with that accent and have women running to the store to buy some.
1970-1980 –Frank Langella and Christopher Reeve. Another actor who did a terrific job as the lead role in the 1974 remake of The Mark of Zorro is Frank Langella, just before he kicked off the vampire craze a couple of decades early with his sensuous performance in 1979's Dracula. And Christopher Reeve as Superman and then later in Somewhere In Time …wow, those eyes.
1980-1990 – Harrison Ford, Cary Elwes and Patrick Swayze. Harrison Ford stole my heart in 1977 as Han Solo, but the bulk of his work falls into the 1980's as he switched off between Han Solo and Indiana Jones. Cary Elwes charmed as Wesley in The Princess Bride. I loved the way he loved Buttercup and how he would allow nothing, not even death, keep them apart. And Patrick Swayze? Again, I love an alpha male who can dance. Dirty Dancing, Road House and Ghost: Patrick had it all.
1990-2000 – Antonio Banderas and Johnny Depp. I love the way Antonio Banderas moves in Desperado, and I'm a sucker for any man who can pull off Zorro with flair. And that accent—delicious. (I'm such a sucker for Latin men.) And I've been a fan of Johnny Depp since he first appeared in the TV series 21 Jump Street. Loved him in the camp classic Cry-Baby and of course, as the Irish rogue Roux in Chocolat. He also makes a heck of a pirate!
2000-2010 – Hugh Jackman and Jim Caviezel. Hugh Jackman won me over as Wolverine in the X-Men movies, and his poster on my wall inspired a few of my darker heroes. (I also had the opportunity to see him on Broadway in The Boy From Oz. Again—an alpha male who can dance and sing!) Jim Caviezel stole my breath as Edmond Dantes in the remake of The Count of Monte Cristo, also inspiring for an hero or two.
2010 forward - Robert Downey, Jr. Robert Downey, Jr. makes be believe in heroes, not only because of his terrific work in Ironman and Ironman 2 but also because of his triumphs in his personal battles. Loved him in Sherlock Holmes as well, and I can't wait for the sequel!
That's my list. Tell me, who's on yours?
I love this list! I'm also a sucker for Tyrone Power, Sean Connery, Antonio Banderas and RDJ...but I was sad to see that my Marlon Brando didn't make the list, Debra! What about you, readers?
Debra has generously offered a signed copy of her most recent release, Tempting A Proper Lady! Tell us who is on your list of Hollywood Heroes (from any decade) for a chance to win on Monday! **Don't forget to share your email address with us so we can reach you if you win!
Stay tuned all this month for fabulous prizes and awesome Ten Ways posts from an incredible range of authors! And don't forget to read more Authors Rule(s)!